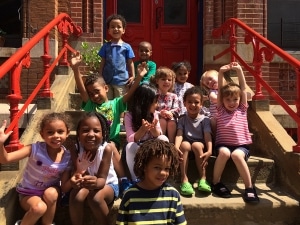 Through The Ned O'Gorman Scholarship Fund, we provide enrollment and tuition scholarships to Harlem families who cannot afford high-quality education otherwise.
In order to continue to provide full scholarships to Harlem families that qualify, The O'Gorman Garden must raise on average $150,000 each year.
Please contribute to The Ned O'Gorman Scholarship Fund to help us continue to provide our warm, nurturing, inspiring educational experience for Harlem children and families. Make your donation today.
The O'Gorman Garden is a 501 (c) (3) not-for-profit organization. All donations are tax-deductible. Our EIN# is 13-4061835, should you need it to process your donation.  Thank you for your support!
Thanks to the dedication and hard work of our Trustees, staff, and volunteers, The O'Gorman Garden finds new supporting friends every year. We would welcome your participation as a friend, and hope you will consider a tax-deductible contribution to help ensure the continuation of our small but mighty school.
Please note: As an education provider, The O'Gorman Garden qualifies for support under the terms of many corporate matching gift programs. If your employer offers such a program, your gift to The O'Gorman Garden could be matched or even doubled.